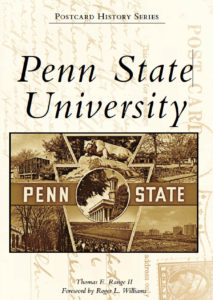 From the Co-Author of The Penn State Blue: A Century of Pride and Precision and Into the Game: The Penn State Blue Band 1999 to 2009, comes a brand new history book about Penn State:
Arcadia Postcard History Series: Penn State University
Marvel at the history of Penn State using only picture postcards to illustrate its narrative. The book uses images from as far back as 1859 to today to showcase the many buildings and activities that no longer exist on the University Park campus.
Through a special relationship with your local Penn State Alumni Chapter, this book is being offered at a discounted rate. As well as the discount, each copy will be signed by the author, Thomas E. Range II!
Order your signed copy today using the order form below.
Signed Copies of the Blue Band history books are also still available! Each book purchased through your association will be autographed by both authors as well!  The books would make a perfect holiday gift!
Orders are due July 31, 2016 with delivery sometime during the first week of September!
All books must be picked up from Endwell, NY. Extra charge for delivery via US mail.