Gregory Drane, Director of the Penn State Blue Band, will be honoring us as the featured speaker for our 2017 Winter Dinner, celebrating the 35th anniversary of the chapter.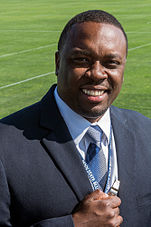 Gregory Drane became the sixth Director of the Penn State Blue Band on July 1, 2015. Drane has served as the Assistant Director since 2005, directing Athletic Pep Bands as well as beginning the Penn State Volleyball Band, and has been part of the Blue Band staff since 2002, when he was a graduate assistant. A talented saxophone player himself, Drane has designed and arranged some of the band's most memorable halftime performances, including "Moving Picture Show" and "Game of THONS." In addition to his duties with the Athletic Bands program, he assists with conducting concert bands and is an instructor for music courses offered to non-majors for general arts credit. Drane holds a bachelor's degree in music education and music performance from Bethune-Cookman, a master's degree in music education from Penn State and is nearing completion on his Ph.D. from Penn State.
Drane is an active researcher with interests in African American contributions to American music education, leadership in the music classroom, and historical music ensembles. He is a member of Phi Mu Alpha and the Pennsylvania Music Educators Association.