Student scholarships are awarded each year at the Student Send-Off in July to local students attending Penn State University, regardless of campus.  Students are chosen based on academics, financial need and a written personal statement.  The University provides the names of students who are eligible based on their standings and invitations to apply are sent in late May via email and USPS.  A panel of alumni review the applicant's letters, which are voided of names, and score them based on a standardized rubric.
Since 1993 our chapter has awarded nearly $55,000 in scholarship money through our endowed scholarship fund.  Activities throughout the year help to fund the scholarships we give.  In 2016, we were able to award 4 student scholarships thanks to the generosity of our chapter!
Please consider making your tax-deductible donation today!  
2016-17 Scholarship Recipients
Congratulations to our 2016-17 scholarship recipients: 
Cassandra Conrad, Endwell, NY: Nutritional Sciences
Katelyn Serfass, Milan, PA: Childhood & Early Adolescent Education
Megan Sweppenheiser, Ulster, PA: Animal Science
Kelly Villanti, Sayre, PA: Hospitality Management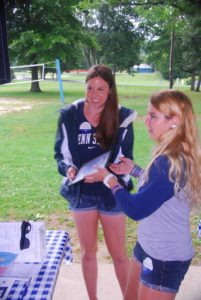 Katelynn Serfass accepting her scholarship award from one of our past recipients,
Taryn Fetherolf at the Student Send Off.
---
2017 Scholarship Timeline
May 31-June 21st at 9am  Letters are submitted from students to Harolyn Pasquale, scholarship chair.
June 15-July 1  Scholarship review committee will review letters.
July 5th  Names are submitted to chapter President.  Top two NY and top two PA and one alternate from each state
July 5th  Chapter President submits candidates to Gina Catalano  at  the University for approval
July 29th  Scholarships will be awarded at the summer student send-off / ice cream social Round Top Park Endicott, NY 1-3pm