The Penn State Alumni of Greater Binghamton Distinguished Alumni Award
The Distinguished Alumnus award was created in January 2016 to recognize individual(s) who have donated their time, talent and resources to the Greater Binghamton Chapter creating a positive difference. The recipient is recognized at the annual winter dinner and receives a Nittany Lion Shrine statue.
The alumnus is selected via nomination and voting by the chapter officers and board.
The criteria for the Distinguished Alumnus Award (the nominee must):
Hold an active chapter membership for a minimum of 5 consecutive years.
Attends a minimum of 6 chapter meetings within the past year.
Hold a chapter office currently or in the past.
Chair a chapter event (noting chapter growth and success) within the past two years.
Attends 3 chapter events in the past year.
Willingly assists in chapter community events (recruiting members, adopt a highway, career networking).
Attends events hosted by PSAA for chapters (ALC, webinars, represents the chapter at senior send off, represents the chapter at collaborative events).
Donates resources to chapter events (summer picnic, golf tournament, winter dinner).
Provides meaningful input and suggestions at chapter meetings and assists to implement the input to operationalize the project.
Support chapter efforts to increase endowed scholarship funding resources.
Assist with membership retention and recruitment
All nominations must be submitted to the chapter president by January 2nd of each year. The nomination must be received from an active dues-paying member.  The chapter officers and board will review all nominations and vote at the January board meeting.  Any chapter leader that is nominated for the award will recuse themselves from the process.
Award Recipients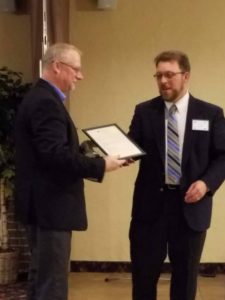 2019      Jeff McKinney
2018      Linda Vogel
2017      Michele Steinhauser
2016      Robert and Linda Malecki